/uses/
A page detailing hardware and software, just like others mentioned on uses.tech.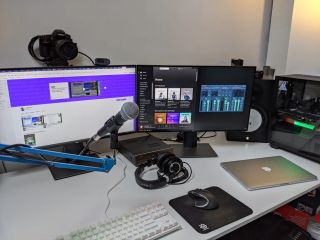 Monitor: Dell Ultrasharp U2720Q times 2
CPU: AMD Ryzen 5 3600
Motherboard: MSI B450M Mortar Max
Case: NZXT H400 Zwart
OS: Microsoft Windows 10 with WSL2
Memory: 64GB G.Skill Ripjaws
SSD1: Samsung 970 Evo Plus 500GB
SSD2: XPG SX8200 Pro 1TB
GPU: Gainward GeForce GTX 1070
KB + Mouse: Something Logitech
Speakers: Yamaha HS-80M
Headphones: AKG ATH-M50
Audio output: Zero DAC
Audio input: Scarlett Focusrite 2i2
Microphone: Shure SM58
Webcam: Logitech C270
Actual camera's include: Nikon D800e, Mamiya 7ii and Linhof Color
CPU: Intel i5 4460
Motherboard: Asrock Z87E-ITX
Storage: 500GB SSD + 21TB HDDs
OS: Ubuntu
Memory: 16GB
An IKEA desk and a Herman Miller Aeron chair to sit on. I sit on the chair, not the desk
Lots of stuff for my cameras including too many lenses.
Epson V700
Nikon Coolscan 9000
Epson Stylus Photo R3000
Nintendo Switch
Mozilla Firefox
Deque aXe
WordPress
Netlify
Sublime Text
Visual Studio Code
And more usual stuff. Feel free to ask.